Redefining State Of The Art Real Estate Marketing And Promotion
Call our Studio on: (360) 394-3680





Kelvin Hughes Productions…
… a "Creative Media Services" company offering high quality Production & Design services to Real Estate and Architectural Professionals.
PHOTOGRAPHY
VIDEO PRODUCTION
AERIAL IMAGERY
MATTERPORT & ZILLOW 360 TOURS
SCRIPT WRITING
Kelvin Hughes Productions
22847 Rulling Ave NE
Poulsbo WA 98370
Phone: (360) 394-3680
Cell: (360) 265-6796
Email: kelvin@kelvinhughesproductions.com

Wondering who we are and what we offer?
A very particular set of skills
Kelvin Hughes was born in London, England in 1960, educated at Kings College School, Wimbledon, and washed up on the shores of the USA during the early 80`s after roaming around Europe, the Middle East and India.
Always a keen photographer, Kelvin turned his eye towards video production in the late 80`s and eventually founded Kaleidoscope Productions on the Big Island of Hawaii. For several years there he wore many hats as producer, director, editor, cameraman and eventually 3-D animator. After returning to London in 1992 to continue his career as a motion graphics designer, Kelvin was chosen by the BBC for special training on the Quantel Paintbox at the BBC TV Bristol Graphics Department.
Armed with a new arsenal of skills and keen to return to the USA, he returned to Seattle, WA and joined American Production Services as Senior 3D Designer and eventually Manager of the Motion Graphics Department. Working at the forefront of new digital technology in the field of High Definition Production, Kelvin entered the arena of high-end broadcast production where his client list included PBS, the Discovery Channel and a long list of corporate clients including Boeing, Microsoft, Dolby, ATL, Nintendo, Sound Transit and the Seattle Seahawks, to name but a few.
In 2001 Kelvin joined Lindblad Expeditions as the manager of the Video Production department after successfully pitching the company for an onboard video program. Starting with just one ship Kelvin developed the Video Chronicle concept and took the program fleet wide to all six of Lindblad`s ships. Over the space of a 5 year period Kelvin built the production arm of the company that culminated in a 14 strong department of Videographers producing over 250 unique productions a year and selling stock footage to Worldwide Television companies including the BBC and the National Geographic channel.
Whilst at Lindblad Kelvin produced countless travel documentary films for the company as well as for Bushtracks, a specialized air safari outfit operating in Africa and India. Kelvin has produced programs around the world from the High Arctic to Antarctica as well as the Galapagos Islands, South and Central America, Baja, Alaska, Europe, Africa, India and many other destinations.
In 2006 Kelvin accompanied the acclaimed World Music group "The Prem Joshua Band" whilst on tour in Rajasthan, northern India to produce a High Definition Music Video in support of the Bands recent release "Ahir".
Since 2006 Kelvin has focused on the Architectural and Real Estate markets knowing that the services and unique skill set that he provides are ideally suited to the marketing of High End Real Estate.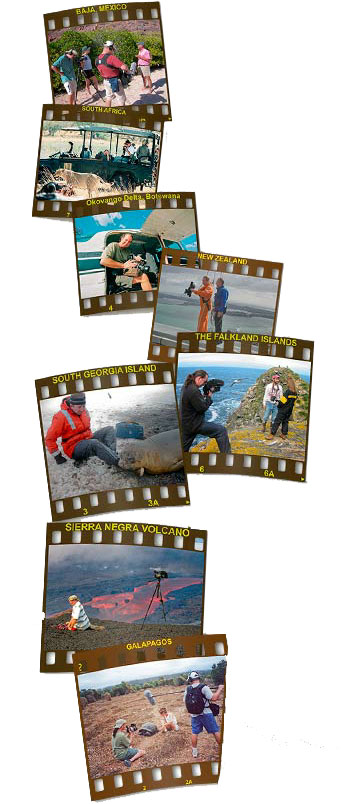 Kelvins career has come full circle over the last 35 years.
Starting in 1980 wiith Silver Halide Photography Kelvin moved with the times and the advances of technology to branch out first into Video production then computer animation followed by web design and finally back to his first love ... the still image… only this time harnessing the full power of the digital revolution to produce truly stunning imagery for his clients.




Sierra Negra Volcano, Galapagos Islands